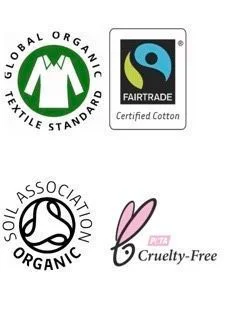 Care for the Environment
~ I continually strive to lessen the impact on the environment. All my organic products are carefully chosen to reflect my exacting standards, certified by leading organisations in the field of sustainability (Fairtrade, GOTS, Soil association, Peta)
Longevity in mind
~It is my priority that the Clothing is made from quality materials that can be passed down through the tiny leaf generations. If you are ever unhappy with your order we will return, replace it for you. We are working on a 'buy back recycle scheme' where we pay customers for their unwanted clothing items, to prevent them from going to landfill, paying it forward & supporting slow fashion.
Standards ~
Unlike food, textile products don't have to be certificated in order to be described as organic. All garment suppliers to Tiny Leaf Organics are certified by the Soil Association in accordance with GOTS (Global Organic Textile Standard). This ensures sustainable fabrics and continually improving worker conditions. Only textile products that contain a minimum of 70% organic fibers can become GOTS certified. The aim of this standard is to guarantee the traceability, the use of environmentally-friendly, to ensure a quality system, a reduction of energy and to respect some social criteria. There are many reliable and humane ways to carry out research which do not involve animal suffering that is why all skincare products & baby essential products on our site are cruelty free!
Fairness ~
I work hard to ensure you know what you're buying, more than just the ingredients in skincare or the materials of clothing. Ethical supply chains are core to my values.
Simplicity~
I continuously strive for the experience to be made simple, from the website to your door.
You can find more information on these following sites:
www.global-standard.org
www.crueltyfreeinternational.org