Halloween is right around the corner. That means pumpkins, gourds, fancy decorations. Seriously, have you seen the shops lately? Everywhere you look there's a pumpkin, a ghost, some other kind of Halloween -related décor for your house or front garden. We buy costumes and cute 'punny' shirts related to the season for all of the parties that we go to and events we have.
Yes, we totally agree that Halloween is one of the most fun celebrations of the year, we know that it can also be one of the most wasteful. As we get in the spirit for the Halloween season, we hardly ever think about how what we buy and create is hurting the environment.
What if we told you that there was a way to make sure that your Halloween is the most eco-friendly it can be? Well, the good news is....we will!
Get Your Pumpkins In A Row
When looking for the perfect fall Pumpkin, there are plenty of ways that you can reduce your carbon footprint. Avoid big box stores that carry a million pumpkins and opt for a farm closer to home that spends all year growing them. Not only are you avoiding that huge amount of waste larger stores make but, you're supporting a small local business. On top of it all, head to the farm with your whole family - picking your own pumpkin is something that they'll remember for years to come. AND, it's the perfect opportunity for an impromptu family photo.
Sweet Treats
There are so many different roads you can take when it comes to making your holiday treats more environmentally friendly. One of my favourites is to bake your own treats. Halloween cookies are a big hit when it comes to your costumed visitors. Zombie and pumpkin shaped gingerbread cookies are always a Halloween favourite in our home.
If you don't want to bake cookies this Halloween season, look for locally made sweet treats that have paper wrapping. This way, you're cutting down on your carbon footprint and avoiding all of the plastic wrappers that Halloween seems to add to the environment.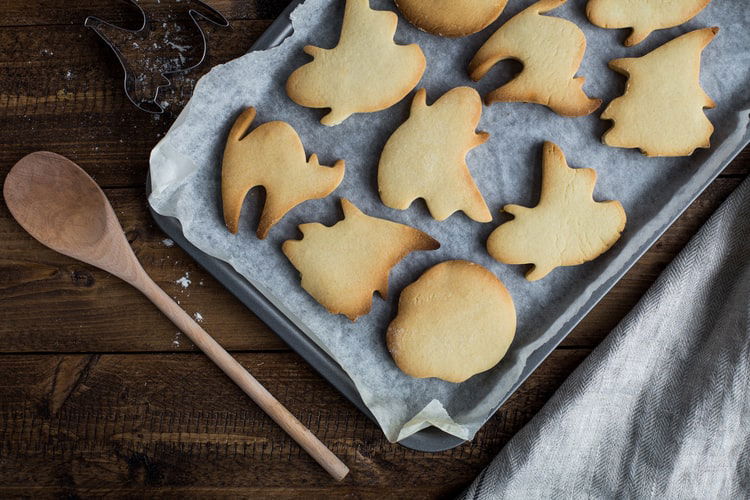 Costume Creativity
Before rushing to the store to by a low-quality costume that will only be worn once, check your closet at home! One of the biggest rules of thumb when it comes to being environmentally friendly is to - 'reduce, reuse, and recycle'. This plays perfectly into picking which old items from your closet can be rejuvenated into a super cool Halloween costume this season.
Get creative and spend the day with your kids DIYing their own Halloween costumes. You can save the environment, and spend some quality time together.
Earth-Friendly Decorations
There are two options that you can use when it comes to making your Halloween decor more sustainable. First, you can use items that you find in your home to create super cute Halloween knick-knacks. A great idea is to use recycled tissue paper to create little ghosts!
Your second option is to buy Halloween décor that you're going to continue to use for years to come. That way, it's a one time purchase that you'll keep using! Even when you don't want to use it anymore, you can resell it to someone who would love to add it to their Halloween decor collection!
Post-Pumpkin Game-Plan
There are so many ways that you can reuse your pumpkin once spooky season is over. This giant orange veggie not only tastes delicious, but you can also add it to your beauty routine.
Remove all of the seeds and pulp from the inside of your pumpkin. Once you get the inside all cleaned up, start scraping the flesh of the pumpkin and add it to your blender. To make this extra tasty, you can add cinnamon and maple syrup for a sweet treat.
Now, don't be quick to throw away the seeds. Rinse them off and put them on a baking sheet. You can toss the seeds in sugar or salt and bake them in the oven for some crispy pumpkin seeds to snack on, on top of fresh baked bread or cereal.
This pumpkin party doesn't need to just be for humans, your furbabies can get in on this one too! Use that pumpkin puree you made and add it to It doesn't Taste Like Chicken's Pumpkin and Peanut Butter Dog Treats. Your fur friend will be sure to beg for these delicious goodies!
The pumpkin is filled to the stem with skin-loving nutrients. The flesh of your pumpkin (aka the puree you made) can help moisturise, brighten, and smooth your skin. It even boosts collagen and helps slow down the aging process. So add that puree into a fancy facial and relax while your leftover Halloween pumpkin does all of the work.
Seriously, let's have some Fall fun without spooking the environment.
Peace & Love,
Me & D x
Photo Credit- Pumpkins: @anitaaustvika
Photo Credit - Cookies: @ carla1